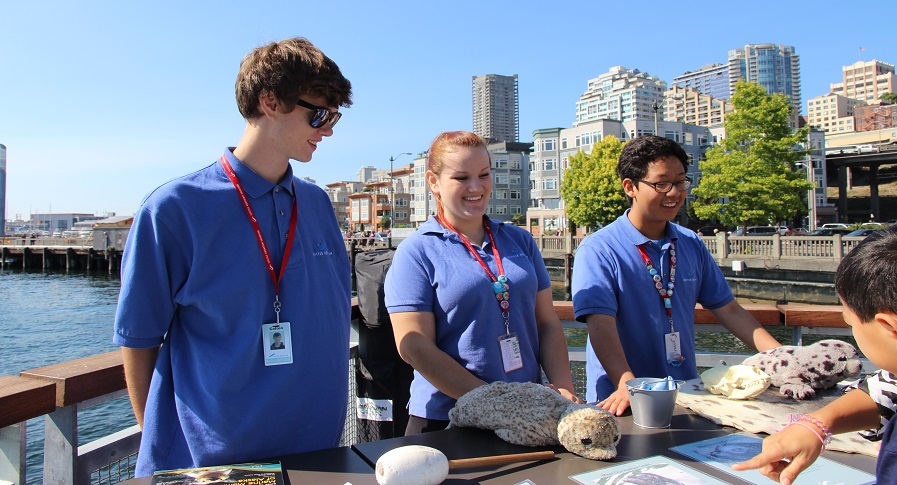 Youth Ocean Advocates use their time, talents, and passion to conserve our marine environment. Discover the variety of ways you can become involved as a Youth Ocean Advocate at the Seattle Aquarium!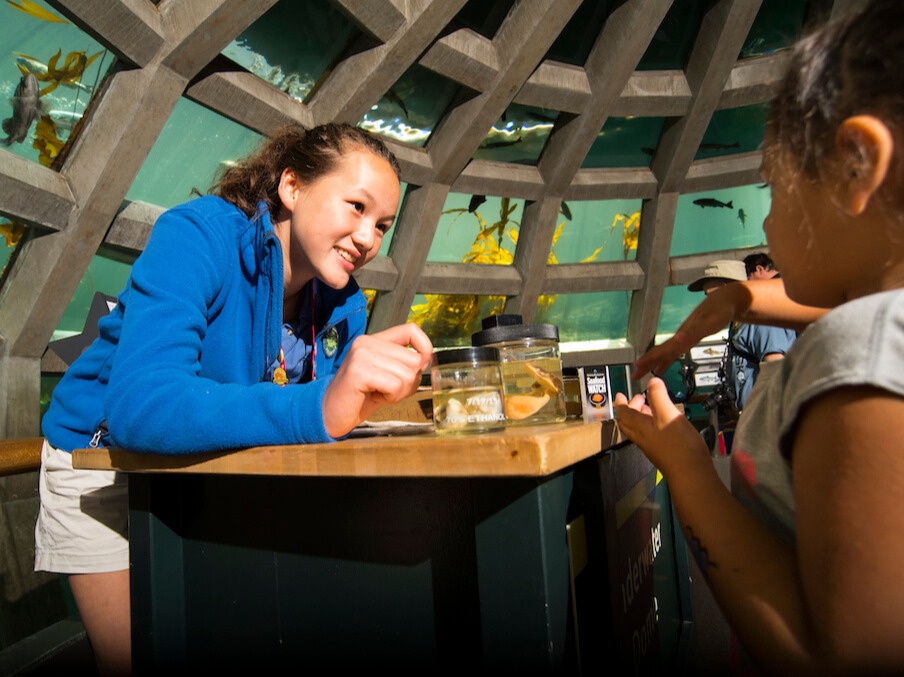 The Seattle Aquarium is looking for passionate young people who have an interest in learning about the ocean and will work to inspire others to take conservation action.
As a Youth Ocean Advocate, you will:
Learn about the marine environment, conservation and advocacy techniques.
Teach the public about the marine environment and its inhabitants, as well as about actions people can take to protect the ocean—by educating Aquarium visitors and creating content for our social media campaign.
Participate in conservation projects like beach cleanups, tree plantings and citizen science.
And so much more!
If accepted as a Youth Ocean Advocate, you'll join a group of over 140 teen volunteers from across the Puget Sound region. The initial volunteer commitment will be for either a school year or a summer.
School-year volunteers participate in a minimum of three volunteer activities each month. Summer volunteers complete a minimum of 20 volunteer activities over the course of the summer. Volunteer activities vary in length from three to five hours.
After completing your initial volunteer commitment, you may choose to remain a Youth Ocean Advocate volunteer until the summer after your senior year in high school.
Requirements and Orientation
Youth Ocean Advocates must be enrolled in grades 9–12 in a high school, Running Start or homeschool program at time of application.
We have a limited number of positions to fill each school year and summer. Potential Youth Ocean Advocates must attend one of our orientation sessions. After you attend the online orientation, you'll receive an application to fill out and return to the Aquarium. We'll select individuals from the applicant pool to interview for the program. Positions are filled based upon the applicant's interview performance and application.
Orientation registration for the school year 2023–2024 session is now closed. If you would like to join us for summer 2024 orientation, please email aquateens@seattleaquarium.org to be added to the email list.
Training
Accepted applicants are required to attend an initial training series before beginning their volunteer shifts start in January. Training will consist of five dates (two in person and three online) totaling around 20 hours. The training dates will take place throughout November and December and accepted applicants will be able to choose their preferred training dates. Training dates and information will be discussed during the orientation session.
Questions?
If you have any questions about the high school volunteer program at the Seattle Aquarium, don't hesitate to contact our staff at aquateens@seattleaquarium.org.