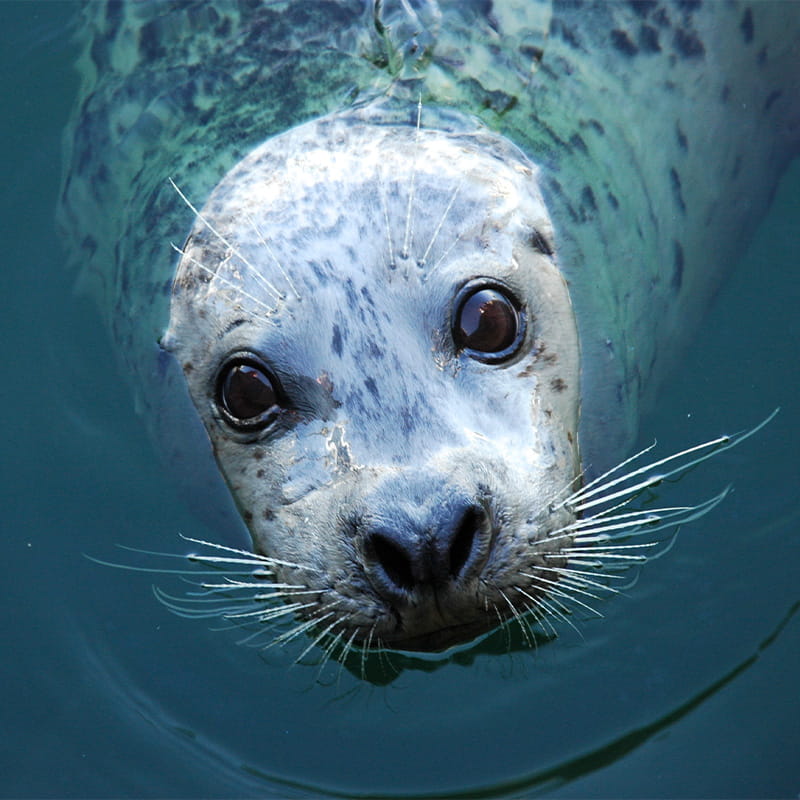 Caring for animals at the aquarium is core to our marine conservation mission.
The rate at which Earth is losing species is alarming, and efforts to reverse this trend are falling short of what's needed to protect our health and the planet's ability to sustain life. To avoid losing more species to extinction, leaders from across fields will need to share knowledge and work together on new solutions. What aquariums know about animal wellbeing is increasingly critical.
We regularly share our knowledge with our visitors, our global conservation partners and other experts. This is an important part of our work to regenerate healthy ocean ecosystems.
Providing Expert Care For Every Animal
Every animal at the Aquarium—from tiny to very large—receives medical care from our expert full-time veterinary team. The team includes vets who are board-certified in zoological medicine or certified in fish medicine. Our new Veterinary Care Center includes state-of-the-art medical equipment (digital x-rays, ultrasound, endoscopy) and a public viewing window so that we can share what we do. The team handles a wide range of patients and issues, from a tufted puffin's routine check-up to emergency care for hypothermic sea turtles that wash ashore on the outer coast.
Our dedicated animal care teams get to know the animals they support as individuals with unique needs and preferences. Team members have extensive experience working with the species in their care. This knowledge and the time they spend directly caring for animals helps them identify unusual behavior early. As a result of receiving excellent care, animals at the Aquarium can experience a high quality of life well into old age.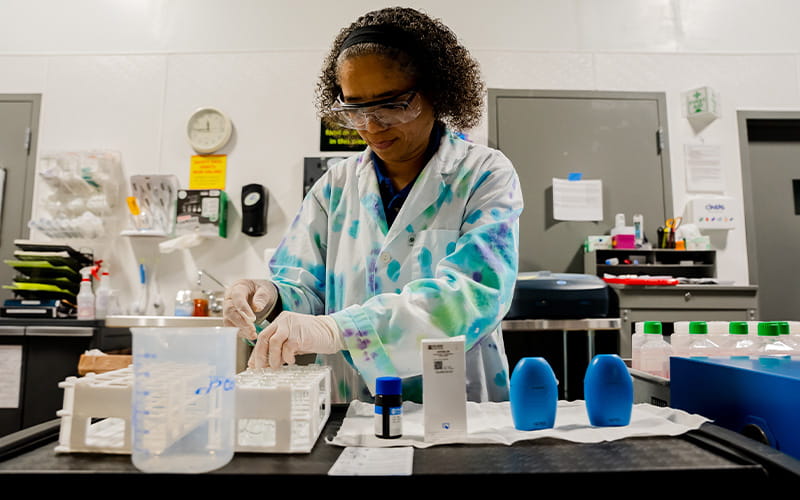 Creating Healthy Environments
To be well, animals need to express their natural range of behavior. Seattle Aquarium habitats encourage natural behaviors based on the animal's environmental, nutritional, evolutionary and social needs. Habitats support a mix of species to create a naturalistic ecosystem that mirrors the animals' experience in the wild.
Water quality is critical to marine animals' health. Our dedicated water quality team monitors the freshwater and natural seawater in our habitats 24 hours a day, 365 days a year to ensure animal wellbeing.
Animals typically experience good wellbeing when they are healthy, safe, well-nourished, provided with choice and free from any pain, fear or distress. 
How do we know animals are well? We evaluate wellness for every animal at the Aquarium by looking at indicators, such as their activity level, what they choose to eat and how they interact with other animals (including humans) within their habitat. The values of these indicators inform us that animals at the Aquarium are healthy and well. Several species of fish and invertebrates at the Aquarium reproduce on their own, which is a further good indicator of animal wellness.
We want the animals in our care to be able to explore, learn and make their own choices. Our animal care teams provide activities and other opportunities for animals to satisfy their behavioral needs, optimize their level of mental stimulation and experience a rich, variable environment. The goal: to create stimulation, interest and, as much as possible, fun!
For most species at the Aquarium, animals and staff can learn to communicate with each other and develop trust over time. It's important that our team listens to the animals as much as they listen to us. Through this work, our staff are able to highlight animals' natural behaviors for visitors, and animals are able to participate in their own health care, such as getting on a scale to be weighed or presenting a flipper for a blood sample.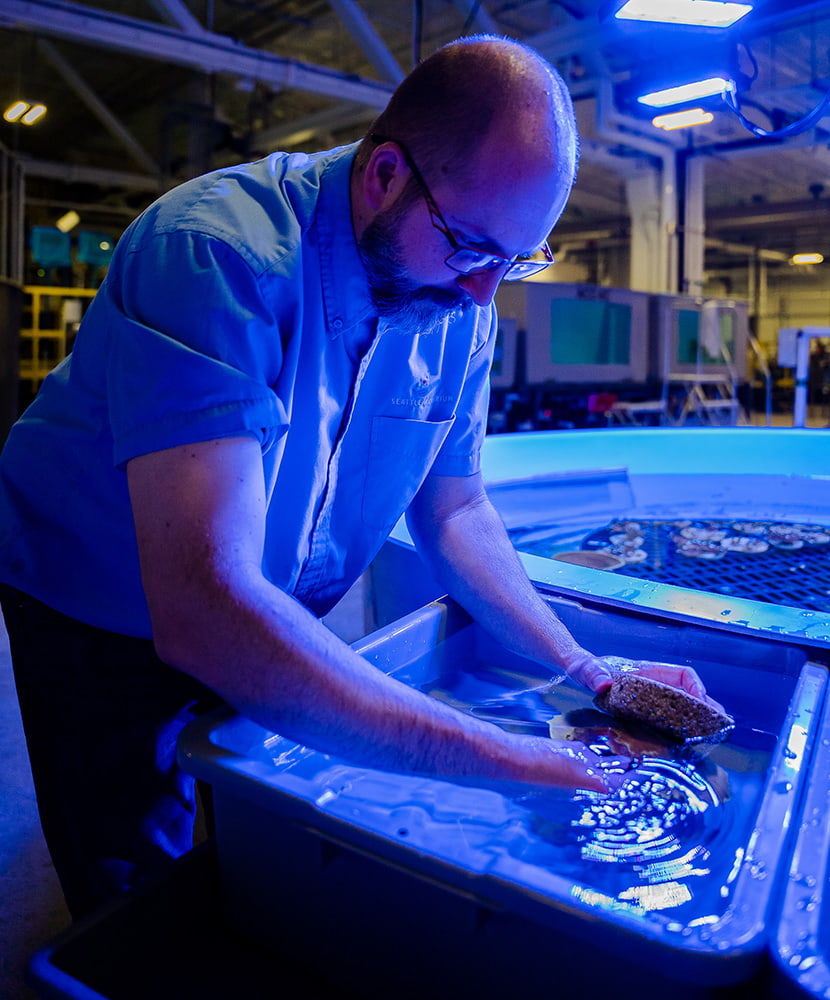 How Animals Come to the Aquarium
Animals come to live at the Aquarium for a variety of reasons. Most of the birds and mammals were rescued after being found stranded and/or injured and deemed non-releasable by the appropriate federal or state government agency. Some birds, mammals, fish and invertebrates were born in aquarium or zoo settings.
Other fish and invertebrates are carefully collected in small numbers with permits from governing authorities. This process is highly regulated and monitored to safeguard wild populations, while also allowing a small number of animals to be a part of our conservation education and breeding programs. The giant Pacific octopuses we care for stay at the Aquarium on a temporary basis, typically around a year. We then return them to their home waters to reproduce and complete their life cycles.
Corals here have a special story: We grow them in a nursery, which avoids impacting fragile wild coral populations.
The sharks and rays that will live in the Aquarium's Ocean Pavilion habitats are coming to us from other aquariums or have been rescued from commercial fishing operations. For other Ocean Pavilion species, we are prioritizing animals that come to us from aquariums or as donations, government confiscations or rescues. For species not available from one of these sources, we only work with organizations whose ethical and sustainability standards comply with all applicable local, state, federal, national and international laws, regulations and treaties.
Our accreditation by the Association of Zoos and Aquariums (AZA) requires that we meet rigorous standards and reporting for ethical animal sourcing and care. We are proud to hold this accreditation, and we often exceed AZA standards. We are also a member of the World Association of Zoos and Aquariums, which is itself a member of the International Union for the Conservation of Nature. We follow all applicable laws, regulations and treaties that are working to end illegal animal trafficking and uphold the ethical and sustainable treatment of wild species.
Curious to know more?
Marine animal behavior can sometimes look puzzling to people. Aquarium team members are always happy to answer your questions. Meanwhile, learn more at the resources below:
Learn more about the care we provide in these stories:
Explore careers in animal care: