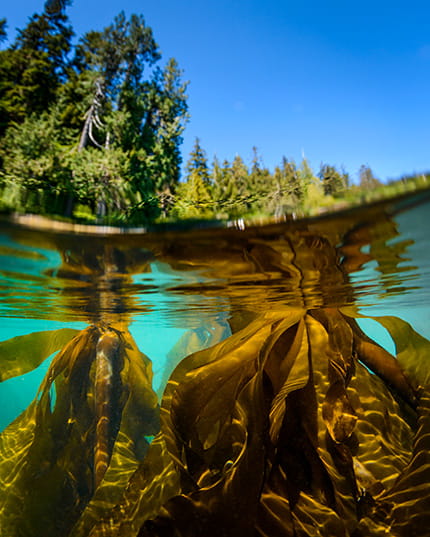 It all starts with kelp.
Bull kelp (Nereocystis luetkeana) is a foundational species, a primary producer that changes the environment in ways that create suitable habitats for a great diversity of species. That makes kelp forests some of the most productive ecosystems in the world. Sea otters and fish feed on animals that live in kelp forests.
Bull kelp lives for just one year, but this alga keeps on giving. Some release their holdfast and fall to the sea floor to seed the next generation of kelp forest. Others float to the surface forming kelp paddies that offer open-water shade and shelter for young fish, sea urchins, crabs and snails.
Kelp forests are a focus of Seattle Aquarium research projects, right here in our own backyard—and beyond.
Urban kelp research project
Why does kelp thrive only in certain parts of Elliott Bay and not others?
Kelp is key to a healthy marine ecosystem. Aquarium researchers are looking into how we can help it thrive throughout Seattle's Elliott Bay. The Port of Seattle and the Seattle Aquarium have teamed up on the Urban Kelp Research Project to study the health, habitat and population trends of bull kelp in Elliott Bay (check out a video about our partnership).
Our teams equipped remotely operated vehicles (ROVs) with top-tier cameras, illuminating lights and cutting-edge sensors—and repurposed an Xbox game controller to guide them. We use ROV Nereo (named after the scientific name for bull kelp, Nereocystis luetkeana) and ROV Lutris (named after the scientific name for sea otter, Enydra lutris) to survey a network of eight sites. We extract data from the videos using open-source artificial intelligence (AI) image analysis. What we learn about the conditions in which bull kelp thrive will help achieve our ultimate objective—to help guide successful bull kelp restoration throughout Elliott Bay and the broader Puget Sound.
Olympic Coast monitoring
Along the Olympic Coast, Seattle Aquarium researchers are also using ROVs to evaluate how certain species, such as Washington's sea otters (Enhydra lutris kenyoni), may help coastal ecosystems and kelp forests bounce back after marine heatwaves, disease outbreaks and other disturbances. Our ROVs video record scientific surveys of kelp; invertebrates (animals without backbones) including sea urchins, sea stars and clams; and finned residents, such as salmon, lingcod and rockfish.
Aquarium researchers are also merging data from established monitoring programs—like surveys of —with fresh ROV survey data focusing on seafloor-dwelling species. They aim to gain new insights into the ways some denizens of the kelp forest can help boost its resilience. What they learn will advance conservation and recovery efforts for both sea otters and kelp across the wider Pacific northeast from Alaska to southern California.
Partnering and sharing data
It takes a village to do this work. Our researchers work side-by-side with local tribes, government and nonprofit partners, and neighboring communities. We share our data online to encourage further collaboration.
In fact, everyone can see what our researchers see on our GitHub page: ROV video surveys, our proposals and reports, and more.
Visit the ROV GitHub page
Inspiring future ocean conservationists
Can you imagine exploring the ocean floor using a regular video game controller? Well, that's everyday reality for Seattle Aquarium researchers! Our underwater vehicles, ROV Nereo and ROV Lutris, are decked-out in tech and directed by researchers using Xbox game controllers.
The dynamic duo Nereo and Lutris star in Aquarium outreach and education events, at least until close-ups of sea creatures appear. It's impressive how quickly young people (and others who know their way around video games) adapt to piloting the ROVs. These demonstrations capture the imagination and show that there are many exciting paths to ocean conservation work, including research, education, partnership building, species recovery, robotics, artificial intelligence, coding and field work.
Photo: Aquarium Research Technician Megan Williams giving an ROV demonstration to youth participants in Aquabilities, a joint program by Sea Potential LLC and Youth Maritime Collaborative.