Discover Pier 60 at the Seattle Aquarium
No trip to the Seattle Aquarium would be complete without a visit to Pier 60, located just north of Pier 59 and accessible via a covered walkway. Pier 60 houses some of our most beloved habitats, including Marine Mammals, Birds & Shores and the Underwater Dome. If you're looking for fun-loving seals and otters or a 360-degree view of familiar local fish, you're in the right place!
Marine Mammals
Sea otters and river otters and seals, oh my!
Pier 60 features some of our most popular and action-packed habitats. Plan to stay for a while as you get to know these charming sea otters, river otters, harbor seals and fur seals—and learn how each species is unique! Sit back and enjoy harbor seals playing in their outdoor habitat—complete with haul-out space for them to bask on land. Marvel at the mighty northern fur seals as they effortlessly glide through the water. Laugh at the adorable antics of the sea otters. Catch the playful river otters romping on land and in the water. And if you time it right, you can enjoy one of our daily talks and animal feedings!
Choose your view—you can watch animals swimming and diving underwater, on the surface from a spot at the edge of the habitat or from a comfortable perch in our seating areas.
While you're here, learn about the Seattle Aquarium's long history with marine mammals. Our research and animal care impact not only the animals at the Aquarium, but also other zoos and aquariums and populations in the wild.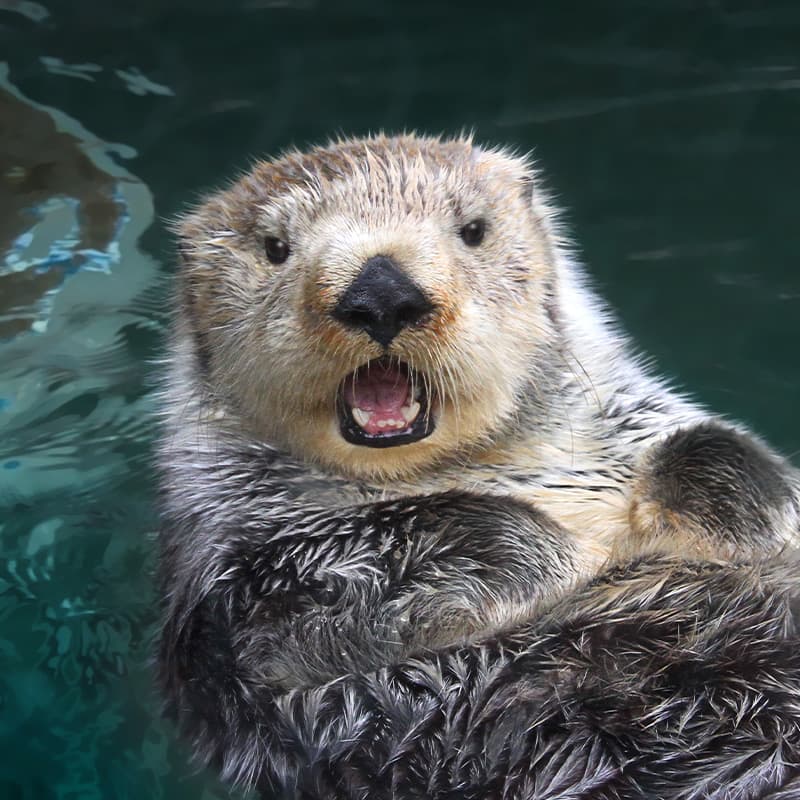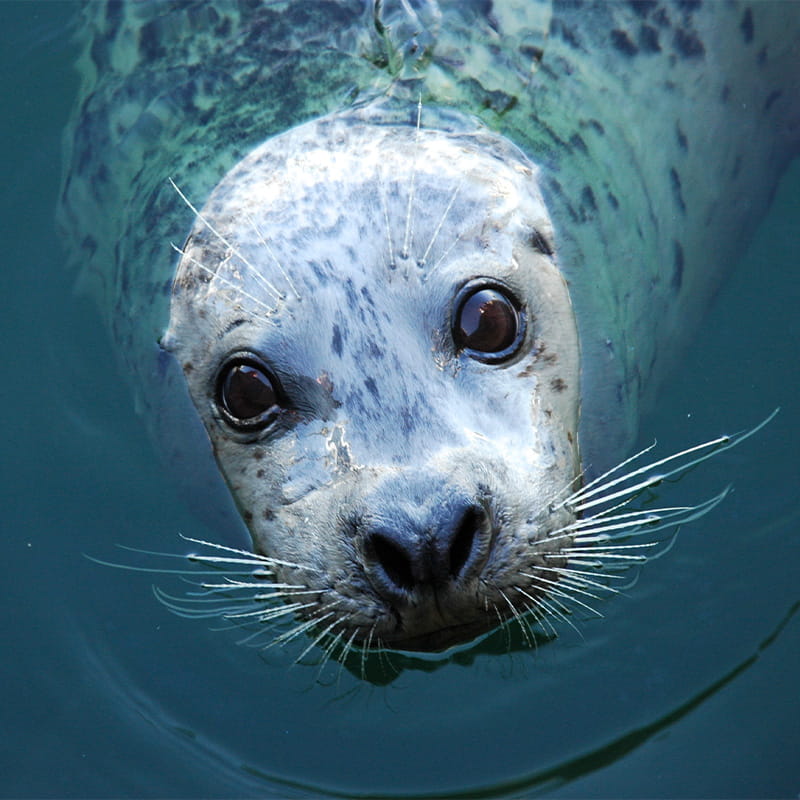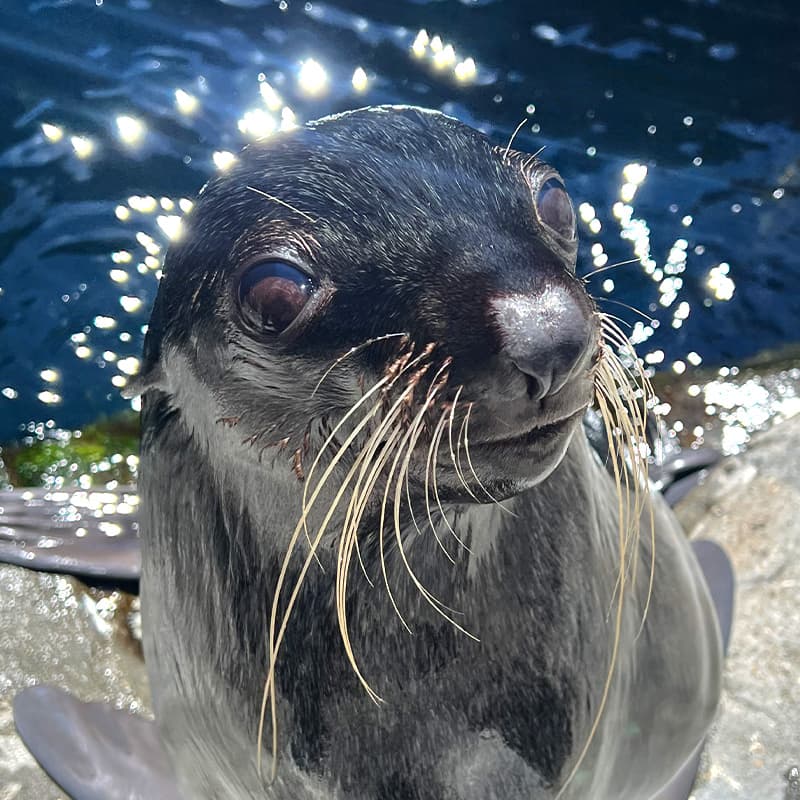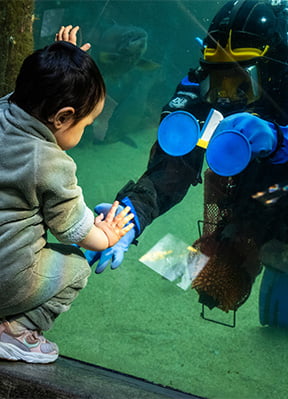 Underwater Dome
Surround yourself in Puget Sound.
Step into our one-of-a-kind undersea dome with a 360-degree view into a 400,000-gallon habitat, filled with hundreds of fascinating Puget Sound fish!
In the Underwater Dome, our largest habitat, you'll experience a beautiful, ever-changing snapshot of life in Puget Sound—without having to take a dip in the Salish Sea. Brightly colored deep-water rockfish swim amid a seasonal kelp forest. Schools of silvery, open-water salmon flash in the filtered light from above. Dogfish dodge between lingcod lurking nearby. See if you can spot all these fantastic fish and more!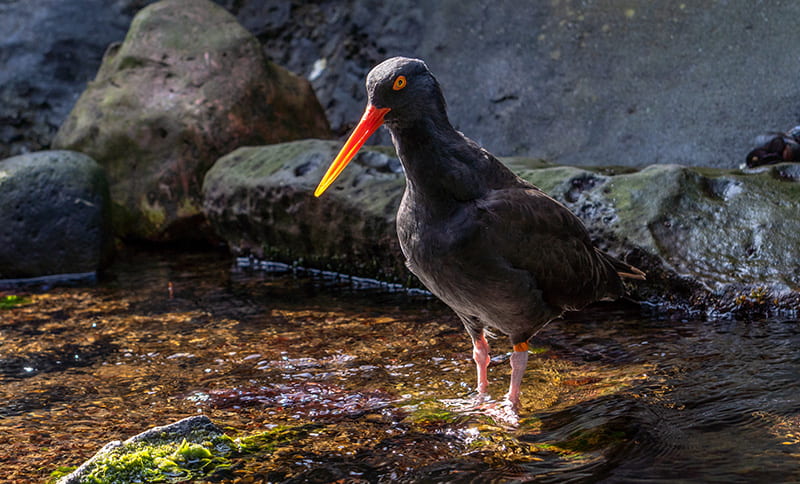 Birds & Shores
Take a stroll through the shores of the coastal Northwest.
This beautiful open-air habitat highlights the rough and rocky shorelines of Puget Sound, and the many species of sometimes reclusive birds that can be found there. Watch tufted puffins and rhinoceros auklets make their dazzling dives. See common murres and black oystercatchers up close. Observe the dramatic changes in some birds' plumage from summer to winter. Above the waterline are rocky cliffs where the birds can burrow or nest in small caves or narrow ledges, just as they would in the wild during breeding months.
In addition to birds, this habitat is also home to many species of fish and invertebrates found along Northwest shorelines, including rockfish, sea anemones, sea stars, sea urchins and others.
Puget Sound Fish
Get to know the fascinating fish of Puget Sound.
The waters of the Pacific Northwest are home to a tremendous number of charming fish—with equally interesting names! In this habitat, you'll see creatures such as grunt sculpins, Pacific spiny lumpsuckers and more. Puget Sound Fish features three environments commonly found in the Sound: eelgrass communities, deep sandy bottoms and rocky areas.
In our eelgrass habitat, you'll find gunnels and pricklebacks living in old bottles and other crevices. You'll also discover why the eelgrass community is recognized as important in the ecology of Puget Sound and is protected by regional and federal governments.
Don't miss the fish found in deeper waters—including the elusive wrymouth, split-nose rockfish, sound and light-emitting midshipmen fish and armored sturgeon poachers.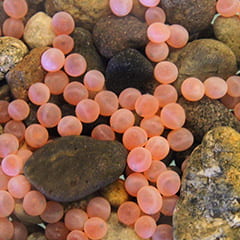 Salmon Life Cycle
Learn how this iconic local fish grows and changes.
Salmon are a keystone species, which means they hold a unique and essential place in the health and functioning of an ecosystem. They're a vital food source for a variety of wildlife. And, of course, they're a popular food for humans too. They also play an integral role in Pacific Northwest Indigenous culture.
Visit the Aquarium's salmon habitat to learn more about these critically important fish and to see them at varying stages of early development—from egg to alevin to fry to yearling—depending on the time of year and species. Find out more about the incredible journey salmon make from freshwater rivers and streams to the ocean and back to their waters of origin to spawn.
You can also look for adult salmon in the Window on Washington Waters and Underwater Dome habitats!
Veterinary Care Center
Take a peek behind the scenes!
Our spacious vet clinic allows guests to catch a glimpse of some of the important animal care work at the Aquarium. Through a large window, guests can watch our team of skilled veterinary professionals check on the animals in our care—from seals to sea stars. Check the whiteboard near the window to see if anything is happening in the clinic during your visit!