Located on Seattle's historic central waterfront, the Seattle Aquarium is made up of three buildings: Piers 59 and 60, directly over the waters of Elliott Bay, and the Ocean Pavilion—currently under construction, with a grand opening planned for summer 2024. Together, they tell a powerful story about Earth's connected waters—from Puget Sound and the Salish Sea, all the way to the other side of the world.
A designated City of Seattle landmark, Pier 59 is where you'll find the Aquarium's main admission gate, the Aquarium café and gift shop, our Caring Cove play space, the 120,000-gallon Window on Washington Waters habitat and several others—including our popular touch pools, where Aquarium interpreters can show you how to get a sea urchin "hug."
Visit our Pier 59 webpage for details about what you'll discover in this fascinating building.
Directly north of Pier 59, Pier 60 may not look like a separate building—but it is! Accessed via a covered breezeway, it's home to the Aquarium's always-captivating bird and marine mammal habitats, the Underwater Dome, our Veterinary Care Center, virtual reality experience, an outdoor walkway with stunning views across Elliott Bay, and more.
Visit our Pier 60 webpage to explore what you'll find as you make your way through this multi-level building.
Opening summer 2024
The Ocean Pavilion
Adjacent to and just east of Piers 59 and 60 is the Ocean Pavilion. Starting next summer, Aquarium guests will be mesmerized by over 3,500 tropical marine animals and plants—sharks, rays, mangroves and more—all found in the Coral Triangle, an area so rich in biodiversity that it's been called "the Amazon of the ocean."
Visit our Ocean Pavilion webpages to learn more about the vision behind this exciting new experience.
Explore the Ocean Pavilion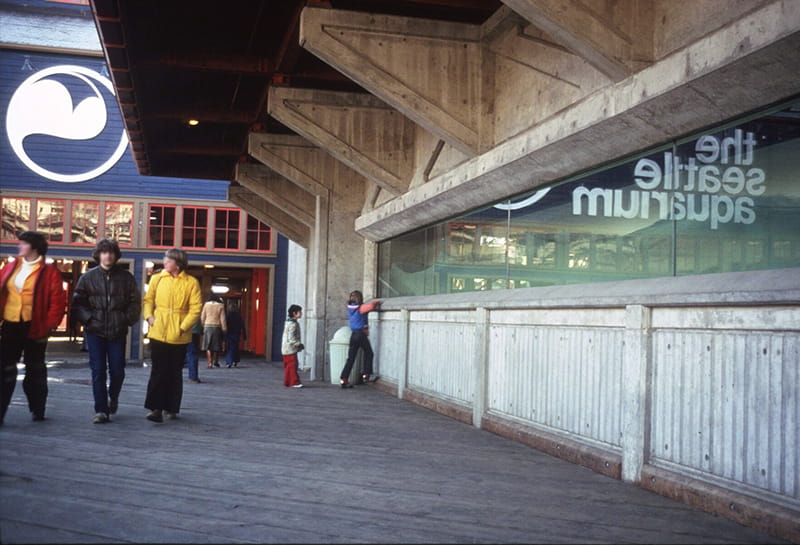 A bit of history
The Seattle Aquarium opened its doors for the first time on May 20, 1977—but Pier 59's history began well before then. The pier shed was originally constructed in 1905 and was home to a variety of businesses, including a grain dealer and a steamship agent, before construction on the Aquarium commenced in the early 1970s.
Because the pier shed is designated as a landmark, no modifications can be made to the exterior walls or roof. One of Seattle's oldest remaining piers, it stands as a reminder of the city's rich history and working waterfront.
And, while the building's exterior remains a constant, the interior has been through many exciting changes since our grand opening in 1977. If it was possible to take a trip back in time to explore the Aquarium in our early years, you very likely wouldn't recognize most of it—and it would be far smaller. Our most recent major expansion, which opened in 2007, added more than 18,000 square feet of space to the Aquarium, including the Window on Washington Waters and Crashing Waves habitats, our café, and more.
There's so much more to explore in the neighborhood
With its prime location along Seattle's central waterfront, the Aquarium is the perfect place to start a day—or several days—of fun. The Seattle Great Wheel is steps away, along with many waterfront shops and restaurants.
Just up the hill to the east is the famed Pike Place Market with its farmstands, shops and restaurants. Interested in a ferry ride? Colman Dock, with connections to Bainbridge Island and Bremerton, is a short walk to the south.
Our directions and parking page is a great place to start as you plan your visit.
Directions and parking