Discover Pier 59 at the Seattle Aquarium
The building where it all began! Pier 59, a designated City of Seattle landmark and testament to the central waterfront's rich and varied history, is home to some of our most popular habitats and experiences. Plus, no visit to the Seattle Aquarium is complete without stops at our café and gift shop, which are housed within Pier 59 as well.
Main entrance
General admission ticketholders enter the Aquarium through doors located at the east end of Pier 59, which open to The Boeing Company Lobby. The lobby also offers an express line for Aquarium members, and is home to our Guest Services desk and lost and found as well.
Have a question about where to find an animal or experience? Need assistance with our access and inclusion offerings? This is the right place to start.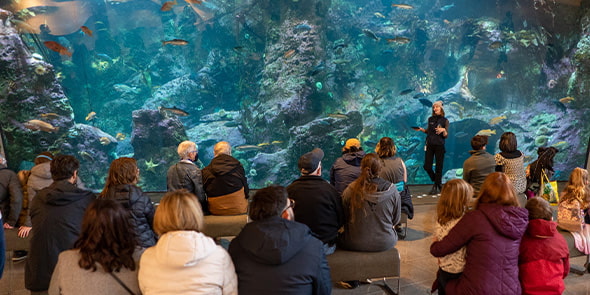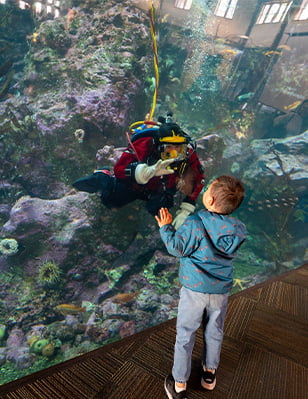 Window on Washington Waters
Dive into Washington's coastal waters as you take your first steps into the Aquarium and experience the 120,00-gallon Window on Washington Waters habitat. Designed to replicate the seascape around Neah Bay, a highly diverse ecosystem located on the northwest tip of Washington state, it's home to hundreds of fish and invertebrates indigenous to our region's waters.
Located at the west end of the Ackerley Foundation Puget Sound Hall, the main viewing window is a breathtaking 20x40 feet, cantilevered to angle gradually from bottom to top, providing an immersive glimpse into life below the surface of Washington's outer coast. The water surges rhythmically, just as it does in Neah Bay, causing kelp blades to gently sway while multitudes of fish—salmon, rockfish, sculpins, wolf eels and more—swim in and out of large rock formations, which also serve as homes for anemones, sea stars, sea urchins and corals.
Around the corner is the Sound Surround, an alcove viewing window that provides a beautiful, wraparound perspective on this mesmerizing habitat. Be sure to stop by for a look as you proceed further into the Aquarium!
Depending on the time and day of your visit, you may also be able to enjoy one of our popular diver presentations or Catastrophe by the Sea puppet show. Check our daily schedule for details.
Crashing Waves
This 40-foot-long habitat replicates a Salish Sea shoreline, from the intertidal zone (or where seawater meets land between low and high tides) to a depth of about 5 feet. It even features rhythmic waves, so be prepared for a potential bit of spray!
As you explore, take note of the different animals in the habitat—from sea cucumbers and snails to limpets and surfperch—to observe how they've adapted to this ever-changing, motion-filled ecosystem. Use the QR code found on the signage at either end of the habitat to learn more!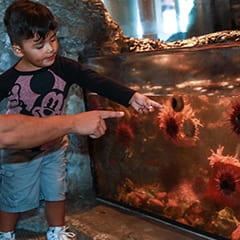 Life on the Edge
Ready to get your hands wet? This is the habitat for you. Life on the Edge is your chance to get up close and personal with the many fascinating creatures that dwell in the tide pools of Washington state's outer coast and inland sea.
Step up, lean over and reach in—watch what happens when you gently touch a sea cucumber with one wet finger. Get a "hug" from a sea urchin. Follow the scuttling steps of a hermit crab. Notice how, even though they seem to be completely still, sea stars are always moving. Inhale the rich scent of seawater.
Staff and volunteers are always nearby to identify animals, answer questions and deepen your knowledge. Even if you opt not to touch, you'll still be enriched by the beautiful sights, smells and sounds of this habitat. A nearby handwashing station is available for all to use.
The ring of Life
You can literally step through this habitat—it's a beautifully lit, ever-changing, 12-foot high acrylic ring filled with luminous moon jellies. Watch in wonder as they gently drift through the water, floating up, down and around the ring, and learn about their fascinating life cycle via the adjacent signage. (This is also one of the Aquarium's most popular selfie spots!)
Giant Pacific octopus
Come eye to eye with the world's largest octopus species and one of the most elusive and interesting creatures found in the Salish Sea: the giant Pacific octopus. The circular habitat offers ample opportunities to observe this intelligent cephalopod up close—along with neighbors including sea stars, anemones and other invertebrates.
A Closer Look table 
There's always something new to discover in this rotating habitat space, highlighting a changing variety of plankton, fish and invertebrates species—with Aquarium interpreters on hand to help you explore. Come take a deeper dive and learn some fascinating animal facts with us!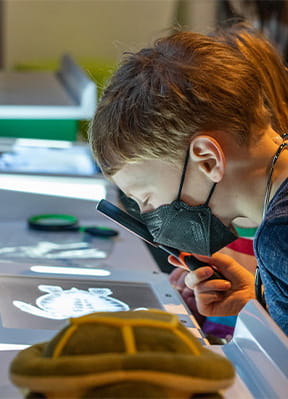 Caring Cove play space
Children and their caregivers are invited to come play with and learn about some of our ocean's wondrous inhabitants and how to care for them in this immersive play space.
Start in the costume/animal area to dress up as an Aquarium veterinarian, biologist, aquarist or interpreter, and choose a plush animal to borrow. Then head to the exam station to give the animal a checkup, or the feeding and enrichment station to prepare a pretend meal or design an activity. A holding habitat offers space for animals to rest, play, eat or interact.
The play space also features an artificial tide pool area for kids to practice looking closely, touching gently and exploring carefully—just as we encourage them to do in our Life on the Edge habitat. Colorful, tactile, filled with faux sea creatures and just 14 inches high, this area is ideal for our youngest guests, who aren't quite tall enough (or ready) to explore our touch pools.
You'll also find a felt wall, where kids can design an underwater ecosystem or animal home, a reading area stocked with children's books and benches for reading or resting.
Designed for toddlers and children up to age 10, Caring Cove is fun for the whole family and supports our empathy work.
Pacific Coral Reef habitat
Discover the vibrant array of life on a coral reef in the Pacific Ocean. Our 25,000-gallon habitat demonstrates the structure of the reef fish community, one of the most complex on Earth. Watch in wonder as a beautiful variety of warm-water fish—puffers, tangs, wrasses, triggerfish and more—swim through our large, human-made coral reef. You may even see Aquarium divers entering the habitat to feed the fish!
As you progress through the wraparound hallway, you'll have the opportunity to view numerous habitats along the walls that offer more snapshots into life on the reef, including a beautiful garden of coral, much of it developed through our in-house propagation program. Throughout the habitat, video screens describe different aspects of reef life and the dangers humans pose to this delicate ecosystem.
Virtual reality experience
Get ready to be mesmerized by our virtual reality (VR) experience! With state-of-the-art motion seats and VR dive goggles that provide a full 360-degree view, you'll feel like you're really part of the action. Learn about the current experience on our daily activities page.
Check ticket availability when you arrive for your Aquarium visit. Space for our virtual reality experiences is limited to four people per session, with sessions offered every 15 minutes. Seats and goggles are fully cleaned between sessions.
Currently showing: Flight of the Mantas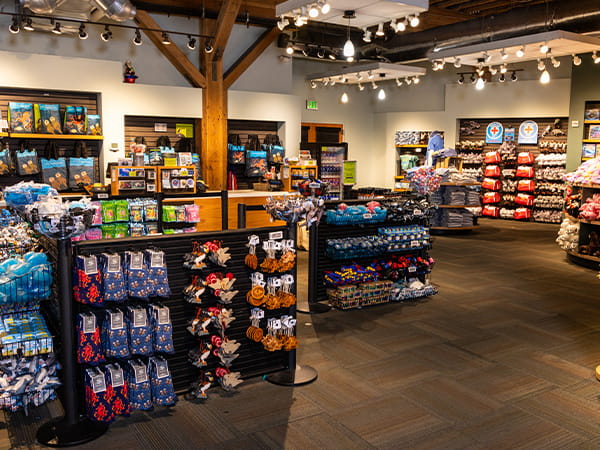 Seattle Aquarium gift shop
Be sure to circle back through the gift shop after exploring the many captivating habitats and animals found in Pier 60. A portion of the proceeds from your purchases helps advance the nonprofit Aquarium's mission of Inspiring Conservation of Our Marine Environment.
You can also shop online! The Aquarium exit is also located through the gift shop.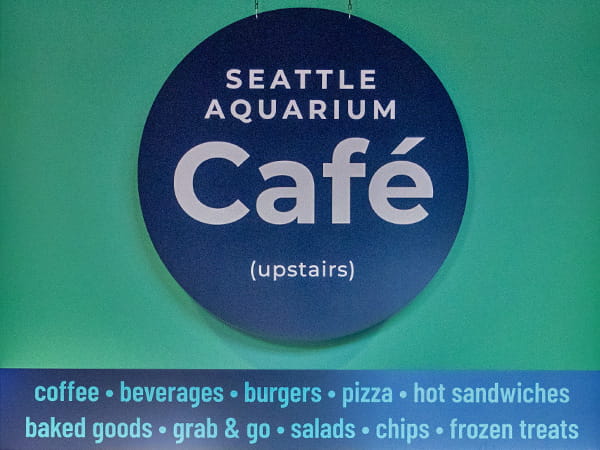 Seattle Aquarium café
Enjoy a delicious snack or meal in our indoor café! Vegetarian and vegan options are available. Also offering an espresso bar, full-service coffee, beer, wine and cocktails.
The café is located on the second level, above the Ackerley Foundation Puget Sound Hall. You can access it via the stairs in Puget Sound Hall, or the stairs/elevator between the Window on Washington Waters and Crashing Waves habitats. Signs throughout the Aquarium will help direct you there.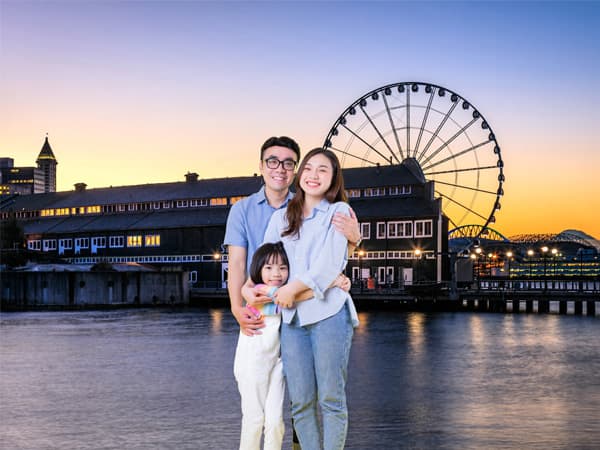 Souvenir photos
Remember your Seattle Aquarium experience with a souvenir photo!
We've partnered with Showtime Pictures to offer this service. You can have your photo taken near the Aquarium's entrance, then purchase and pick it up before you head home.
If you forget your photo—or decide later that you'd like one—you can still purchase and order at ShowtimePictures.com.
To contact Showtime Pictures please email customersupport@showtimepictures.com or call 1-954-449-8840.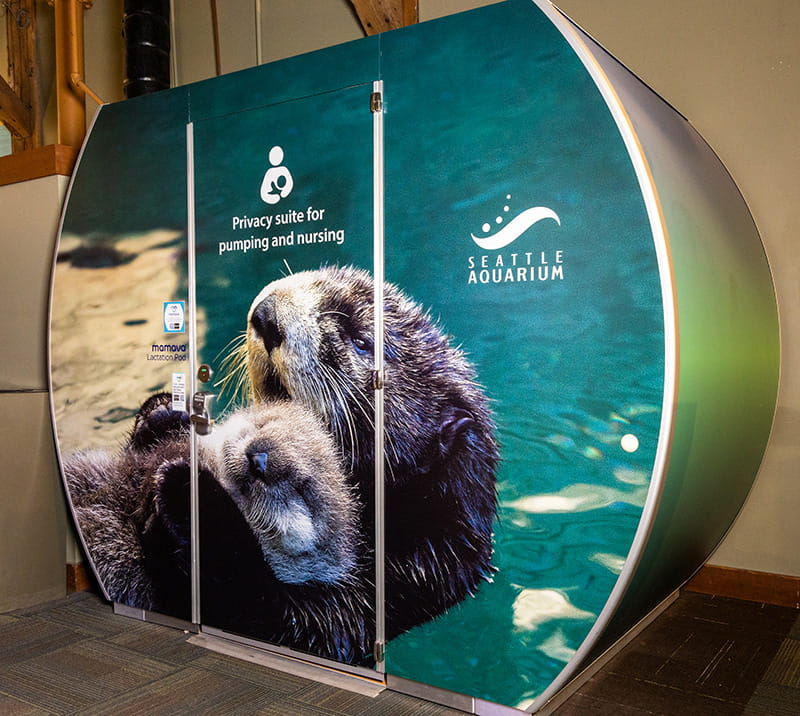 Nursing/pumping pod
The Aquarium is happy to offer private nursing/pumping pod for use by our guests. Located between our Caring Cove play space and Pacific Coral Reef habitat. Visit our accessibility page for details. Changing tables are available in the restrooms across the hall from the nursing pod, and in all other restrooms as well—see our map for locations.
Stroller parking
Located in the hallway between the Window on Washington Waters and Crashing Waves habitats. When needed, changing tables are available in all restrooms—please see our map for locations.
Group entrance
For school and community groups. Located on the south side of the pier, about midway down the outdoor walkway.